We would like to invite you to take advantage of a unique business partnership in the 46th annual Eid Festivals at Enercare Centre.
The Eid Festivals, organized by the Muslim Association of Canada (MAC), attract thousands of families in the GTA every year with its unique community gathering, fun-filled carnival, and its distinguished bazaar.
Building on past partnership success, we would like you to consider our Bazaar for Eid Al-Fitr Festival 2022.
Our previous events were met with positive feedback from all bazaar participants. With a spacious area and many fun-filled activities this year's festival will attract thousands of families, youth and children throughout the day. Over fifty small businesses come together to showcase their products and services to the community.
Unique compared to other events, this whole-day event allows for businesses, such as yours, to access thousands of people from different cultural background, social and economic spheres. With more than 10,000 community members attending, it is the perfect marketing opportunity for companies to advertise their products and services.
We would be delighted to see you at the Eid Bazaar this year and for years to come.
For any inquires please reach out to us at [email protected] and a member of our team will be happy to assist.
All booths are 10′ x 10′ in size and come with (2) chairs.
Corner booths ( A & B ) come with (2) 8 ft long tables.
Center booths ( D ) come with (1) 8 ft long table.
All proceeds from Bazaar Vendor registration helps to cover the cost of the event and ensures that event admission remains free for everyone. MAC does not profit in anyway from organizing this event. There are no discounts for last minute registration.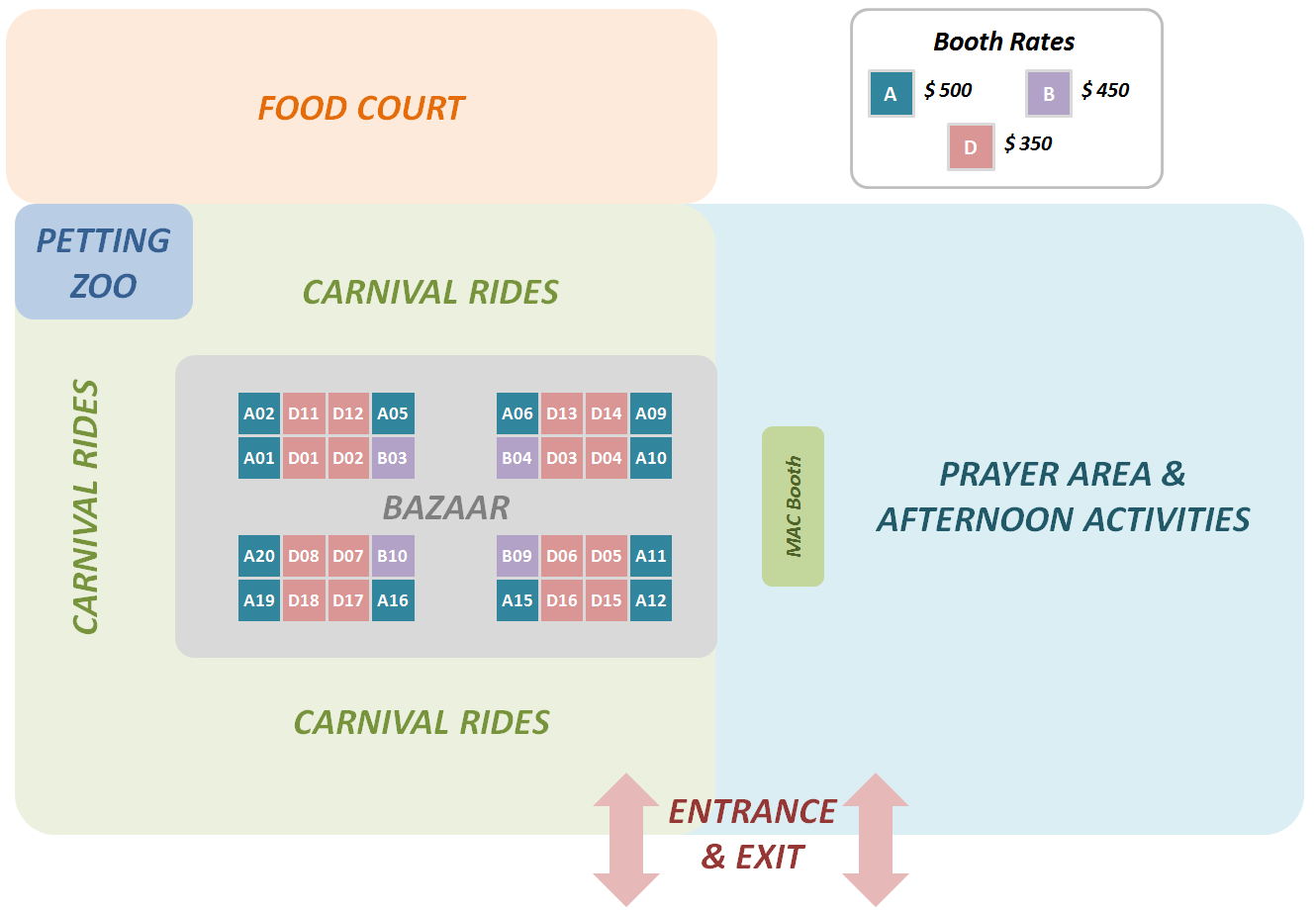 Thank you! Jazaka'Allah Khair for all who signed up to be part of this Eid Al-Fitr Bazaar! If you missed the signup for this Eid Al-Fitr, please know that we will be planning a Bazaar for Eid Al-Adha. Please check back in a few weeks for that registration, InSha'Allah. If you have any questions or concerns, please reach out to use at [email protected], our team is always ready to help. Wishing you and your loved ones a blessed and joyous Eid!